Peak Performance Ebonite Ball Review
Ebonite Signals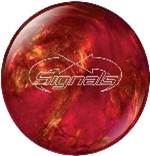 Prev Next
Weight:  16 lbs
Surface:   Box (3000 Abralon)
Axis:  5 5/8" by 1" up
Extra Hole:  5 inches on VAL (small)
Drillings:  5" pin up with a 60 degree MB
I used this ball out of the box, which is a 2000 abralon with Power House Factory polish.  This is the cleanest high performance ball that I have used in many years.  The exciting thing about the Signals is its response in oil.  I can get any ball through the front with ease and usually have issues with the ball not responding soon enough and/or in the oil.  This ball is very unique in this area.  It seems to slow down in time to respond with a very sharp breakpoint.  I have modified that surface on this ball to get a good gauge on the versatility of the veneer.  It responded very well and actually picked up stronger midlane with a 2000 abralon pad but yet it never sacrificed the sharp move at my breakpoint. 
I have included the Signals in my arsenal as a ball that is needed when the environment is demanding a ball that can get through the front part of the lane and needs angular assistance at my breakpoint.  I will continue to stay with the box surface (2000 abralon with Power House Factory polish) and use it in most medium volume patterns. (if I compete on higher volume patterns, I will use a fresh 2000 abralon pad)  This ball will be the ideal piece for angles that require targeting inside of 15 or deeper. 
This balls creates the piece I needed to perform at a very high level during the times I can't seem to carry a corner pin due to lack of entry angle.  This is another great high performance product from Ebonite.
Top