Peak Performance Ebonite Ball Review
Ebonite Salute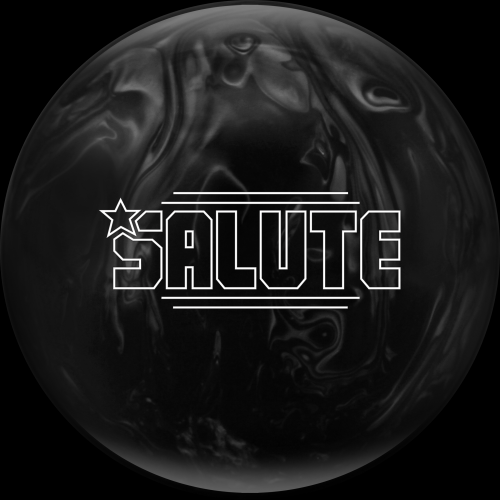 Prev Next
Weight:  16 lbs
RG: 2.51
Diff: .048
Reaction: Super Continuous
Environment: Medium to Heavy Oil
Coverstock                            Big Time Hybrid 80/20
Factory Finish                            500/1000 w/factory polish
Core                                          Adrenaline (symmetric)
Core:  Adrenaline Core (Symmetric core). The Adrenaline core is a strong symmetric option this price point has been missing and helps create the long and strong motion consumers are looking for. 
Cover:  New Hybrid cover that's poured with an attractive blend of 80% silver pearl and 20% black solid. The Big Time Hybrid cover provides easy length and equally strong motion in the mid-lane and back end. This ball is best suited for medium oil conditions.  
Personal
BALL SPECS
Pin Length:  3 to 4
Starting Top Weight:  3.0
Ball Weight: 16

DRILL PATTERN

Pin to PAP:   5" (above ring finger
CG: 3 ½" from PAP
X Hole (if there is one):  5" over and 1"up from midline

BOWLER STYLE:  RH - tweener
Rev Rate:  320 
Ball Speed: 16.5
PAP/Track:  PAP:  5 5/8" and 1" up

SURFACE PREP
Box Finish:  500/1000 w/factory polish
Other: 3000 abralon

LANE CONDITION
House Shot – Several
Sport Shot - (41 ft, medium volume)
Surface – "new" Brunswick ProLane
COMMENTS
The Adrenaline was one of my favorite symmetric cores that I have thrown by Ebonite. When I heard from R & D that this core was going to be reintroduced, I was very excited. The SALUTE has lived up to its predecessor (Adrenaline) and then some. Out of the box it is very angular at your breakpoint. The adrenaline core eliminates the over-under found in some company's symmetric cores. The SALUTE still slows down in the midlane but maintains its strong response at the breakpoint. Ebonite's R & D team matched the core to the new hybrid cover perfectly. I also modified the cover from the factory polish to a 3000 abralon pad surface for heavier oil environments and it still had that same look at the breakpoint but picked up the midlane sooner. This ball is versatile, continuous at the breakpoint and it performs on a multitude of environments. Great job Ebonite!
Top