Peak Performance Ebonite Ball Review
Ebonite Source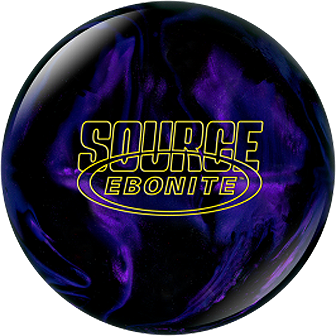 Prev Next
Ebonite Source Ball Specs: 
- Core Type: MISSION
- Coverstock: New XL2000 Pearl 
- Color: Black/Purple 
- Factory Finish: 2000 Abralon® with Factory Polish
- RG max: 2.48 
- RG diff: .049
- Recommended Lane Condition: Med/Heavy conditions
Personal
BALL SPECS
Pin Length:  3 to 4
Starting Top Weight:  3.0
Ball Weight: 16
 
DRILL PATTERN
Pin to PAP:   4 1/2 " (below ring finger)
Mass Bias:   60 degrees
X Hole (if there is one):  5" over and 1"down from midline

BOWLER STYLE:  RH - tweener
Rev Rate:  320 
Ball Speed: 16.5
PAP/Track:  PAP:  5 5/8" and 1" up
 
SURFACE PREP
Box Finish:  Factory 2000 Abralon with Factory Polish
 
LANE CONDITION
House Shot – Several
Sport Patterns - Several


 COMMENTS
I had an opportunity to first watch the SOURCE perform at Bowl Expo in Las Vegas during Demo Days at South Point. The entire product line was introduced with all brands of Ebonite (Track, Columbia, Hammer and Track). The SOURCE stood out from the entire Demo line. The reviews from the bowlers were excellent. I watched low to high rev rate players, low to high ball speeds and a variety of axis rotations and tilts. The SOURCE seems to create great ball motion for all of these different players.
The SOURCE has the successful MISSION core which is wrapped around the new XL 2000 Pearl coverstock. The first characteristic that stood out to me was how clean it is through the front part of the lane and the angle at the back. The other feature that really stands out is the versatility of the core/veneer. I have used this on typical league patterns, flatter sport patterns and a variety of different lengths and volumes and the SOURCE provides great ball motion. Most pearl balls create a one ball motion arsenal piece for me but the SOURCE provides multiple options in a ball arsenal.
The surface can be easily manipulated as can the layout of the core. If you haven't tried Ebonite in awhile, the last two introductions – CHAMPION and the SOURCE have been terrific. I encourage you to give both these products a try. I think you'll be extremely pleased with the overall performance.
Top