Peak Performance Ebonite Ball Review
Ebonite Persevere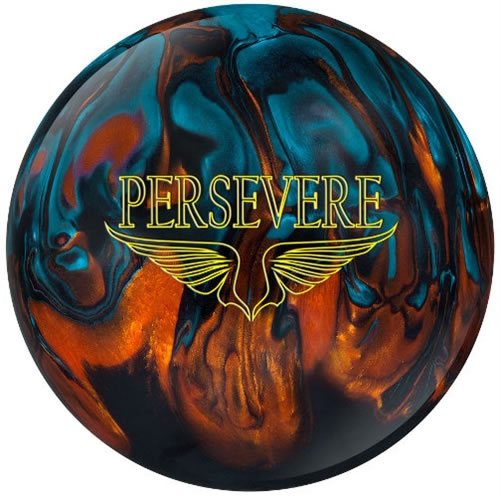 Prev Next
Description: We all have to Persevere through trials in life. This ball was dedicated to a famous bowler, Tommy Jones and to all bowlers who persevere through life. This ball persevere's through the oil continuing to the pocket with a strong backend. You will want to use the ball on medium oil lanes or with oil patterns that are a little broken down. Also, since this ball is a Reactive Hybrid it will read the lanes a little more than a normal Hybird and hook slightly more in the backend.
"This ball, combined with the recent release of the Ebonite Challenge, is going to fill gaps in my arsenal and help in in tournaments all over the world The Persevere expecially can go either way - I can shine it up when the lanes hook a lot, or put a 1000 grit finish on it when they are tight. I love that versatility. It reminds me of the Game Breaker a little bit because of how much I can use it I'm definitely looking forward to the upcoming season with my new pieces." - Tommy Jones
Ebonite Persevere Ball Specs:
- Core Type : V5
- Coverstock: Traxion Reactive Hybrid .039
- Color: Orange/Teal/Black All colors do vary somewhat from the picture shown.
- Factory Finish: 2000 Abralon®, A few tiny pit holes in the cover stock of the ball are normal
- RG max: 2.51
- RG min: 2.72
- RG diff: .051
- Hook Potential: Mid
- Length: Mid
- Recommended Lane Condition: medium conditions

Personal
BALL SPECS
Pin Length: 3 to 4
Starting Top Weight: 3.0
Ball Weight: 16

DRILL PATTERN
Ball 1
Pin to PAP: 5" (above ring finger
CG to PAP: 3 ¾"
X Hole (if there is one): 5" over and 1"up from midline
Ball 2
Pin to PAP: 4 1/2 ( pin in middle finger)
CG to PAP: 4
X Hole (if there is one): 5" over and 1" down from midline

BOWLER STYLE: RH - tweener
Rev Rate: 320
Ball Speed: 16.5
PAP/Track: PAP: 5 5/8" and 1" up

SURFACE PREP
Box Finish: Factory 2000 Abralon
Type: (Matte, Polish, Sanded): Abralon

LANE CONDITION
House Shot – Several

COMMENTS
Can you say "benchmark"? The Persevere has become the benchmark ball in my arsenal. It will perform on most environments. It also gives me the opportunity to make the correct and fast decision on whether or not I need something different in ball motion. If you liked the V2 and/or Gamebreaker, you will love the Persevere. Very similar but updated which responds a bit stronger at the breakpoint.
The Persevere will perform extremely well in heavier volumes and even lighter volumes with a cover adjustment and longer pin from the PAP. It also responds very well with a hand position change, which defines a versatile bowling ball.
The stronger pin (4 ½") is more midlane while the longer pin (5") creates a larger angle at the back. The Persevere will enable any type of player to match their rev rate and ball speed to the environment.
I would recommend this ball to any type of bowler looking for a new ball that can become their "go to" arsenal piece and be used the majority of the time.
This is another outstanding new ball manufactured by Ebonite.
Top