Peak Performance Ebonite Ball Review
Ebonite Champion Shot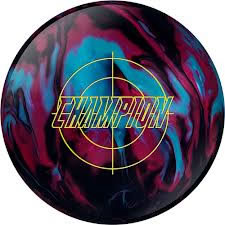 Prev Next
Weight: 16 lbs.
Core: Modified AXS
Coverstock: RCS Reactive Pearl(unique finishing process)
Surface: 1500 Factory Polish
Axis: 5 5/8" by 1" up
Ball Layout: 5" pin up with a 70 degree MB
Extra Hole: 5 inches on VAL (small)
Ball Reaction
Length: Ball is very, very clean through the front end.
Midlane: Reads the body of the lane (midlane).
Breakpoint: Very STRONG continuous direction change
Environments to Use: Medium to Heavy Oil, League and Sport Patterns.
Comments
The Champion is the newest high performance ball from Ebonite. This ball reminds me of the first time I used the original ONE. It's one of those special "WOW" balls that a bowler immediately knows it is special. My first experience was in league play. After removing it from the ball press, I shot 800 with it the first 3 games of play. It is one of the few shiny pearl balls that performs exceptionally in high oil environments. Most pearls are so clean that the midlane never gets a chance to slow it down, which creates over/under at the back of the lane. The Champion reads the mid section of the lane and creates that strong entry angle that all bowlers are looking for.
I had an opportunity to use it in a local event. The environment jwas very low scoring. The pattern was very flat and the backends were tight. The Champion read the lane properly and created enough entry angle for proper ball motion for carry. It created that "look" that no one else had throught the event.
I have bowled on Highway to Hell and one other sport pattern with the Champion and the results have been the same. This ball is extremely versatile, reads the lane much different than other competitor's pearl balls and strikes a lot. This is a ball in my arsenal that is very difficult to put in your bag. If you are looking for that "WOW" ball, try the Champion. You will wonder what took you so long.
Top