Peak Performance Ebonite Ball Review
Ebonite Challenge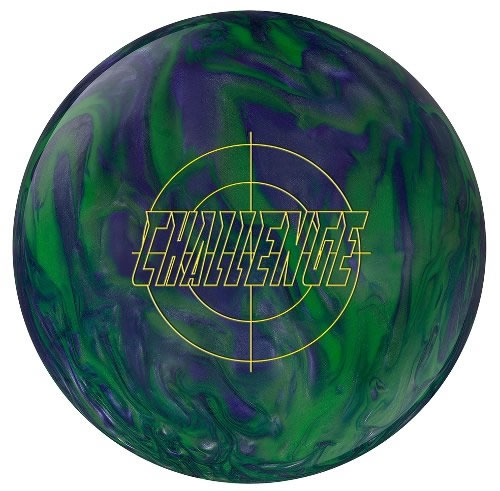 Prev Next
Description: Ebonite is continually challenging themselves to push the envelope when it comes to High Performance bowling balls. The Challenge ball contains technology that is new to the bowling industry and is sure to be a great addition to any arsenal.
- Color: Silver/Purple/Green
- Coverstock: RCS
- Core: AXS
- Factory Finish: 1500 Abralon
- Flare Potential: High
- RG: 2.51
- Differential: .057
- Description: The Ebonite Challenge brings the latest High Performance Technology to the Bowling Industry.
- More Core: All new AXS core design focuses on bringing the best we can design in core dynamics and shape!
- Contour Planes: With all the research our R and D team has done on contour planes, the new AXS core has been designed to allow ball drillers more confidence in drilling, by eliminating large "void" areas in the contour profile.
- Advanced Drilling Stability: This is something that we talked about in the Empire core shape, and the AXS core shares this unique feature. As a result of the unique shape of the AXS core, you will change the values of RG and Differential at the same rate when drilling.
- Cover: We are heading down a great new path in HP cover technology…..with the all new RCS cover system. RCS stands for "Reaction Control System". By reformulating some of our very best High Performance veneers, we are bringing the very best in cover stock technology to market.
Personal Layout
Weight: 16 lbs
Core: AXS
Coverstock: RCS
Surface: Box (1500 Abralon)
Axis: 5 5/8" by 1" up
Ball Layout 5" pin up with a 70 degree MB
Extra Hole: 5 inches on VAL (small)
Ball Reaction
Length: Ball is very clean through the front end.
Midlane: Strong motion in the mid body of lane
Breakpoint: Strong continuous direction change
Comments:
I used this ball out of the box, which is 1500 abralon. This is the cleanest high performance ball that I have used in many years. The exciting thing about the Challenge is its response in oil. Many balls that get through the front part of the lane usually respond very strong when it reads friction (resulting in a over/under reaction). Because of its' new core and coverstock, the Challenge clears the first 15 feet very clean and reads the mid lane with strong continuation through the pins. This combination eliminates the expected over/under and creates a ball motion that is strong but still very manageable during transitional stages of the lanes.
I used the Challenge fresh out of the box on a league pattern and threw a 26 bagger for 300/800+. I have also used the Challenge on a Viper pattern in a tournament and led from the start to finish. Both patterns were different lane surfaces (wood vs HPL), types of oil, patterns and lane machines (Kegel vs Brunswick). The results show just how versatile this ball is and can be for a variety of players, lane surfaces and patterns.
I recommend this new HP Ebonite product to any bowler who wishes to have instant success and add a piece to his/her arsenal that is the first ball out of the bag for medium to heavy oil patterns. Ebonite has hit a homerun with this combination of its' new core technology and coverstock. This ball should CHALLENGE any competitor's ball for Ball of the Year!
Top