Peak Performance Ebonite Ball Review
Ebonite Code of Honor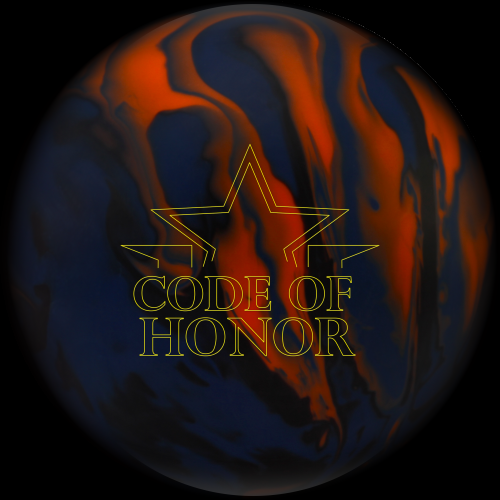 Prev Next
Ball Weight: 16 lbs
RG: 2.49
Diff: .043
Reaction: Strong Overall Hook
Environment: Medium to Heavy Oil
Coverstock: New RCS 5.0
Factory Finish: 500, 3000 Abralon
Core: CB-2 Core (Pivot, Honor)
Mass Bias: .017
OVERVIEW
The Code of Honor features the CB-2 core that has been found in some of Ebonite's top performing balls, most recently the very successful Honor.  The CB-2 is a strong revving core that helps produces strong mid-lane and great continuation.  The CB-2 has been a favorite for bowlers that like strong asymmetric cores that roll great for a wide range of styles and drill patterns. 
 The Code of Honor has the strongest cover that has ever been used on the CB-2 core, the RCS 5.0 cover is poured in a gorgeous blend of Black, Orange and Blue solid colors.  We combined the strong cover with a 500, 3000 Abralon® finish in order to maintain great continuation and usability across a wide range or oily conditions. 
 The Code of Honor provides Ebonite fans with a top performing ball at a great value, the Ebonite promise.  Bowlers will love the Code of Honor when there is some oil on the lane and they still want to see that great hook motion with a strong move on the backend.
Personal
BALL SPECS
Pin Length:  3 to 4
Starting Top Weight:  3.2
Ball Weight: 16

DRILL PATTERN
Ball 1
Pin to PAP:   5" (above ring finger)
MB: 75 degrees
X Hole (if there is one):  5" over and 1"up from midline

BOWLER STYLE:  RH - Tweener
Rev Rate:  320 
Ball Speed: 16.5
PAP/Track:  PAP:  5 5/8" and 1" up
Axis Rotation Angle: 45 degrees

SURFACE PREP
Box Finish:  Factory (3000 Abralon)

LANE CONDITION
House Shot – Several modifications with different manufacturers oil
Sport Pattern – 41' with medium volume 
Lane Surface – "new" Brunswick Pro Lane 
COMMENTS
The CB-2 asymmetric core has been a terrific versatile and high performance core for Ebonite (PIVOT series and most recent HONOR). The HONOR filled the need for a high performance ball that was very clean through the front (longer skid phase) with some midlane read but lots of backend. This is a terrific ball for medium environments. Ebonite listened to the bowlers who again wanted the same asymmetric core but an option for heavy oil environments and (CB-2 core) backend angle. Well the "new" Code of Honor wrapped around the new RCS 5.0 coverstock creates this strong ball motion. This is the strongest cover that Ebonite has ever developed. The Code of Honor still maintains the clean motion through the fronts with very strong midlane roll and a great response at the breakpoint. This is a perfect match for bowlers who love asymmetric cores with strong shape at the back of the lane. Ebonite has become the industry expert in meeting consumer wants/needs and in matching covers to cores. Great Job Ebonite!
Top