Peak Performance Ebonite Ball Review
Ebonite Adrenaline Shot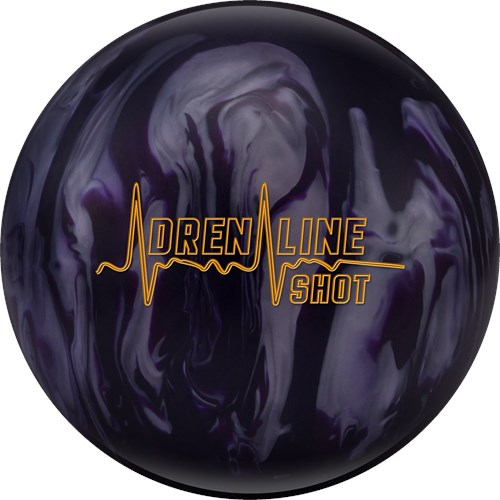 Prev Next
Description: Ebonite created the Adrenaline Shot bowling ball to fill a gap in total overall hook. The GB 12.0 Hybrid coverstock displaces oil faster and combines with the Adrenaline core to read the backend and create a strong backend reaction on medium to heavy oil conditions.
Ebonite Adrenaline Shot Ball Specs:

- Color: Silver/Purple All colors do vary somewhat from the picture shown.
- Coverstock: GB 12.0
- Core: Adrenaline
- Factory Finish: 500/2000 Abralon
- Reaction: Strong overall hook
- Recommended Lane Condition: Medium-Heavy Oil
- RG: 2.51
- Differential: .048
- ** RG and Diff are based off of 16 lb. balls
Personal
BALL SPECS
Pin Length: 3 to 4
Starting Top Weight: 3.0
Ball Weight: 16

DRILL PATTERN

Pin to PAP: 5" (above ring finger)
X Hole (if there is one): 5" over and 1"up from midline

BOWLER STYLE: RH - tweener
Rev Rate: 300
Ball Speed: 16.5
PAP/Track: PAP: 5 5/8" and 1" up

SURFACE PREP
Box Finish: Factory 500/2000 Abralon with Factory Polish


LANE CONDITIONS
House Shot – Several, Nesbits' Open Pattern
Lane Surface
New Pro Lane, HPL

COMMENTS
The new Adrenaline Shot continues with the Adrenaline core (one of my favorites) and a new hybrid cover – the GB 12.0. My hope for this ball was a ball motion that was cleaner in the front than the Salute and more angle at the back on medium to higher volumes. It is exactly that: cleaner in the front and more at the back. It is a perfect choice on fresh, medium-higher volume patterns. It reads the mids and still provides the needed entry angle. When the Salute is not enough at the back and the Code of Honor is too angular, the Shot is the ideal choice. I have inserted this piece into my arsenal as a start ball on environments that are higher volume (medium to heavy), especially sport compliant patterns. It provides controllability with plenty of angle to strike. I think all styles of players can add the Adrenaline Shot as a start ball and then sequence based on the transition (once the skid phase shortens and the back to not enough, it's time to sequence).
Top