Peak Performance Ebonite Ball Review
Ebonite Warning Sign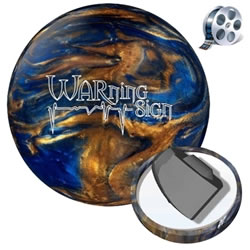 Color: Navy/Gold Pearl
Coverstock: High Traction Reactive Hybrid-2
Weight Block: Verve
Factory Finish: 800 Abranet®, 1000, 2000, 3000 Abralon® sanded
Flare Potential: High
Radius of Gyration (RG): 2.49
Differential (Diff): 0.046
Intermediate Differential (Mass Bias): .009
Description: The NEW WARNING SIGN BALL is the ball to have when you're up against the odds. With the all new VERVE Core design and the all new High Traction Reactive HYBRID– 2 cover, this combination of core and cover will have you winning in Heavy Oil Environments!
BALL LAYOUT
Pin to PAP:  4 ½"
MB Degree:  60°
X Hole:  5" from center of grip, 2" down on VAL
SURFACE PREP
Box:  3000 Abralon
LANE CONDITION
Length:  42 feet (Medium-Long)
Volume: 25.5 Micros (High Volume)
Lane Surface:  Wood
BALL REACTION
Length:  Ball is very clean through the front end.
Midlane:  Strong motion in the mid body of lane
Breakpoint:  Strong continuous direction change
COMMENTS
The new Ebonite Warning Sign may push for a ball of the year.  The first few shots I used the Warning Sign, I knew this would be a huge success.  The new Hybrid 2 Traction cover creates a ball motion that is forgiving in the friction but yet creates traction in the oil.  The hybrid covers allows for easy transition off of hook, which most balls change direction quickly resulting in a poor result.  The RG and DIFF are matched up perfectly with the new Verve core.  
This ball is extremely versatile with both surface adjustment and release.  With the surface out of the box, it can handle high volume oil environments but yet can handle medium conditions as well by modifying the surface of the cover.  Besides the new Elevate, this ball could be considered a benchmark ball in any arsenal.
Top