Peak Performance Ebonite Ball Review
Ebonite Game Breaker 3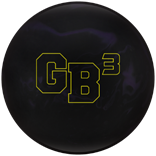 Prev Next
Ebonite Game Breaker 3 — Ebonite took the trusted motion of the original GB2 and beefed up the coverstock to give bowlers the best tournament ball possible for today's oil conditions. The proven Enhanced V2 core, combined with the GB 12.7 Hybrid coverstock, will work on any medium to heavy oil lane condition for any style. If you're looking for a predictable and continuous motion, look no further than the GB3.
GB 12.7 Hybrid — EBI took the same great coverstock that was on the Matrix and finished it with a sanded finish to give the ultimate combination of traction and continuation. GB3 will match up best on medium to heavy oil lane conditions.
Personal
BALL SPECS
Pin Length: 2 to 3"
Starting Top Weight: 3.0
Ball Weight: 16
RG: 2.49
DIFF:  .041

DRILL PATTERN
Pin to PAP: 4 1/2 " (under ring finger)

BOWLER STYLE: RH - tweener
Rev Rate: 300
Ball Speed: 16.5
PAP/Track: PAP: 5 5/8" and 1" up

SURFACE PREP
Box Finish: Factory 500/2000 Abralon

LANE CONDITIONS
House Shot – Several
Lane Surface
New Pro Lane

COMMENTS
If you have been around bowling for the past couple of decades, you know the V2 Core.  The GB3 again has the Enhanced V2 core and really defines Shape and Continuation.  The GB3 is a phenomenal ball and matches any bowler's style (rev rates and speeds and is extremely versatile for many different lane conditions.  This is Ebonite's most aggressive GameBreaker due to its' coverstock.  The cover can be modified with different surfaces and it will directly affect your shape.  Go out and buy one.  It will be your most used ball in your arsenal.
Top