Peak Performance Ebonite Ball Review
Ebonite Choice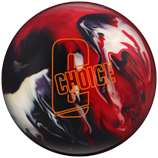 Prev Next
The Choice is the newest addition to Ebonite's high performance lineup. This ball pairs the GSV-1 Hybrid coverstock with the Mod-1 asymmetrical weight block. The Mod-1 is the result modifying the Centrex Symmetrical Mass Bias core that was used in the THE ONE in order to match up for peak performance with the stronger GSV-1 coverstock. The Choice comes out of the box at a sanded 2000 Abralon finish (500/1000/2000). The result is a strong hook in the oil and a strong response off the dry, creating a ball with a huge amount of hook potential.
Personal
BALL SPECS
Pin Length: 2 to 3"
Starting Top Weight: 3.0
Ball Weight: 16
RG: 2.50
DIFF:  .047

DRILL PATTERN
Pin to PAP: 4 1/2 " (under ring finger)

BOWLER STYLE: RH - tweener
Rev Rate: 300
Ball Speed: 16.5
PAP/Track: PAP: 5 5/8" and 1" up

SURFACE PREP
Box Finish: Factory 500/2000 Abralon

LANE CONDITIONS
House Shot – Several
Lane Surface
New Pro Lane
COMMENTS
The Choice fresh out of the box with the 2000 abralon surface performed extremely well on recreation patterns (league patterns).  It really blended out the heavy volume in the middle of the lane.  The Choice is very strong in the mid part of the lane and the entry angles are predictable.  I liked the Choice much better with more surface (2000) than with smoothing the surface up to 4000 on high volume league patterns. Even with the strong factory surface, the ball is very clean through the front.  The strong core and aggressive cover will give most league bowlers a ball motion that performs extremely well on recreation patterns.  If you are looking for a ball that hooks in oil, this ball is for you.
Top