Peak Performance Ebonite Ball Review
Ebonite Game Breaker 2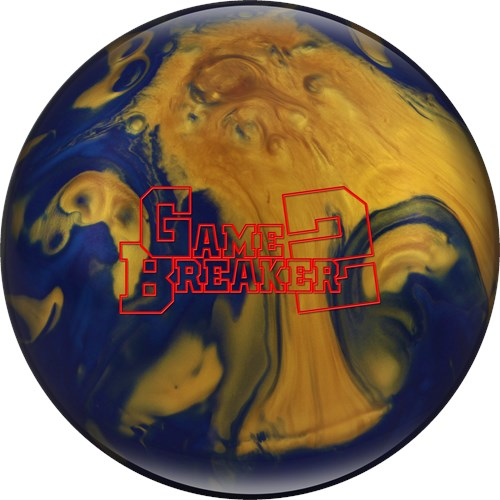 Prev Next
Description: The successful Ebonite Game Breaker line of bowling balls continues with the Game Breaker 2 Gold. This ball was created to cleanly get through the fronts while conserving its powerful and continuous movement for the backend on medium oiled lanes. This is all achieved by covering the Enhanced V2 core with the GB 10.7 Pearl coverstock and finishing it with 1000 grit Abralon and Powerhouse Factory Finish Polish.
Features:
- Color: Royal/Gold/Blue (Colors may vary from picture shown)
- Reaction: Strong Backend
- Coverstock: GB 10.7 Pearl
- Factory Finish: 500/1000 Abralon Polished with Powerhouse Factory Finish Polish
- Core: Enhanced V2
- Recommended Lane Conditions: Medium Oil
- RG: 2.49 (16# ball)
- Diff: .041 (16# ball)
Personal
BALL SPECS
Pin Length: 2 to 3"
Starting Top Weight: 3.0
Ball Weight: 16

DRILL PATTERN

Pin to PAP: 4 1/2 " (under ring finger)
X Hole (if there is one): No Extra Hole Needed

BOWLER STYLE: RH - tweener
Rev Rate: 300
Ball Speed: 16.5
PAP/Track: PAP: 5 5/8" and 1" up

SURFACE PREP
Box Finish: Factory 500/1000 Abralon with Factory Polish

LANE CONDITIONS
House Shot – Several
Lane Surface
New Pro Lane

COMMENTS
The GameBreaker 2 Gold's name says it all. It still has the "patented" ball motion but with 3-4 less boards of overall hook than the GameBreaker 2. The new Pearl coverstock has created a ball motion that will allow many of the die-hard GameBreaker players to sequence to the Gold when the solid GB2 starts up too early. The overall hook compared to the GB2 is about 3-4 boards less. If you like the Vortex core (Gamebreaker) and ball motion, this is a must in your bag.
Top